So here is where I am totally using this blog for my own personal gain.
Over here
,
Keen
is doing a giveaway.
For any of their products.
Now, in case you didn't know, I am kinda a shoe addict.
And I am addicted to expensive shoes.
Not like Carrie Bradshaw shoes.
But hello, I own about five pairs of Keens, five pairs of Chacos, and five pairs of Danskos (to my credit, I snag a lot of them for like 50-75% off at
Steep and Cheap
).
I seriously have a problem.
I especially have a bit of a Mary Jane addiction. How can you not think these are not adorable?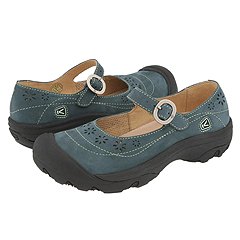 Anyway, I get an extra entry into the contest if I link back to it from the blog.
Yes. I am a shameless shoe whore.
Oh! And in some running related content... We had our running group Christmas party tonight.
There was a white elephant gift exchange.
I put in an entire box full of Howard Dean pins and stickers that I have left over from 2004.
In return...
I got...
THE GERMAN CHICKEN HAT!!!1!!1!
The German Chicken Hat hasn't even been worn since
I wore it last year for Living History Farms
. In fact, it still has leaves stuck in its feathers. Oh I'm so happy that the German Chicken Hat is moving to Seattle with me!!!